Do you know what your pets are up to right now? After you watch the Secret life of pets, you might have a better idea. This is a free printable Secret Life of Pets birthday invitation for your upcoming Dog, cat or pet party. Choose from two different file formats (PDF for JPEG) in this download for your Secret Life of Pets party theme. This Secret Life of Pets invitation has a close-up of Mel, the Pug and also Max, Chloe and Gidget. This invitation says "It's Birthday Party Time, Join us to Celebrate"
JPEG Secret Life of Pets Printable Invitation
This download includes a High resolution JPEG Secret Life of Pets printable invitation which is easy to print and fill in your party details by hand. This is a great way to get creative with pens and markers to personalize the invites for your party goers. You could also import this invite into a program such as PowerPoint and add text fields if you don't have photoshop available if you would like to type in details.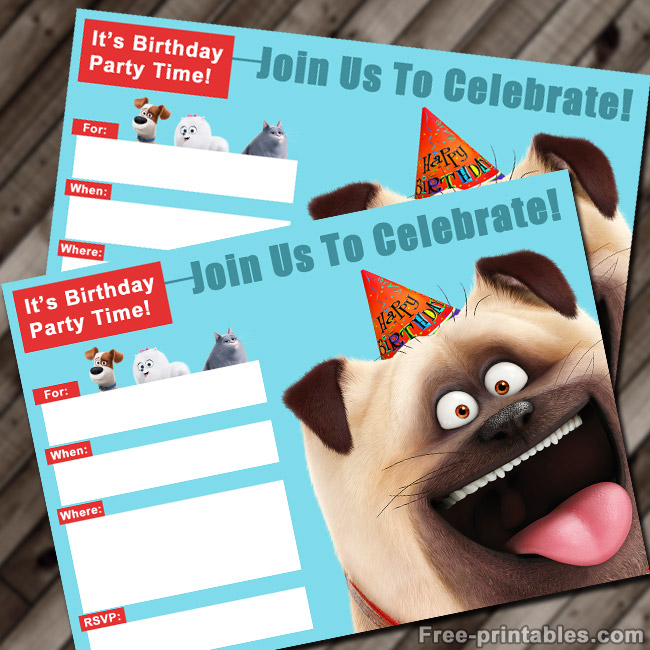 PDF Secret Life of Pets Printable Invitation – Convenient type option
Much like JPEG invitation, you can simply print your free Secret Life of Pets invitation and then fill in your info with a pen or marker. A great way to save time, this option is already to type into. There are a number of editable areas to type in the birthday recipient, time of party, party location and RSVP info. The free Secret Life of Pets PDF printable will print two invitations to a sheet at 5 x 7 inches. The text fields auto size as you fill in text. As you get to the end the text will automatically get smaller. If you find you can't add spaces keep typing and go back and add your spaces between words afterwords. You can download your free printable Amazing Secret Life of Pets invitation below!
License: Personal Use Only
File Size: 4.67 MB
Format: JPEG & PDF
What paper is best for these pet invitations?
If you want your Secret life of pets invitations to be thick and sturdy, using a white cardstock paper works great. Cardstock gives you that more professional look. For a more inexpensive option you can try a multipurpose printer paper. It is easy to fold and cut. I have used both types of papers for my party invites and both fit in envelopes nicely.
What can I use to cut my Secret life of pet invitations?
Scissors work great, but with printing and cutting your free invitations and lots of my other free pet printables a paper cutter comes in handy! It will make all those straight cuts go really quick. Another great benefit is that with the paper cutter you can cut more than one paper or invitation at a time. We have a couple different paper cutters for all our free printables.
More Great Secret Life of Pets Stuff!