Make your snacks "pet friendly" with these fun and free Secret Life of Pets Applesauce Cup Toppers. These offer a great way to theme your healthy apple sauce snacks in a kids lunch with different pets from the Secret Life of Pets movie. Our family just saw the movie recently and it was so creative and so much fun. I had no idea our animals were up to so much mischief when we were gone 😉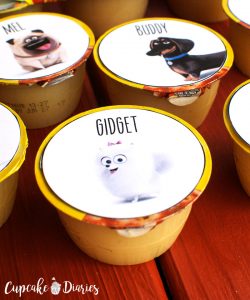 These also work great to decorate snacks like applesauce that you may serve at a Secret Life of Pets party or put in a party favors bag. Another idea is to take them and laminate them and use them as cute pet drink coasters.
These toppers fit great on top of kids Applesauce snack cups. You can print them off, cut them out with scissors, and tape or glue them right on top of your favorite applesauce cups. There are 9 different Secret life of Pets characters included in this 1 page PDF printable. These cup toppers print out at approximately 2.5 inches wide and include characters Max, Gidget, Chloe, Pops, Buddy, Sweetpea, Duke, Snowball and Mel.
You can download your free printable Secret Life of Pets Applesauce Cup Toppers below!
License: Personal Use Only
File Size: 18 MB
Format: PDF
More Great Secret Life of Pets Stuff!